You can find the Technology Summit manual in the OMS download library. What and where is that,  you ask! Check out James Dingman's article below. It includes step-by-step instructions and pictures, too.
There is a wonderful (and little used) online resource available to Help-U-Sell brokers.  It's the Download Library and it's part of the OMS (Office Managment System).  I keep talking about it but I've not been good enough at conveying the wealth of information that is there — so let's take a look, together.
First:  to get to the Download Library, go to www.helpusell.com, scroll down to the bottom of the page and click on the link for 'OMS.'  Use your login for access — and if you don't know what your login is, send an email to support@helpusell.com .  Once in OMS, select  'Marketing and Content' and then click the link to 'Download Library'.  Here's what it looks like: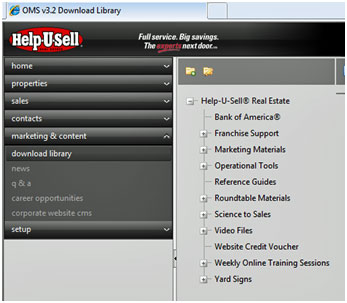 The Bank of America section has examples of the kinds of co-branding materials you can work with your Bank of America MLO to create.  This is a great place to start when you're thinking of doing a flyer or some other kind of marketing.
The Franchise Support area is big with materials on listings and buyers as well as jingles and radio ads.  I'll expand the 'Listing Consultation' section so that you can see there's everything you need to assemble and practice your presentation.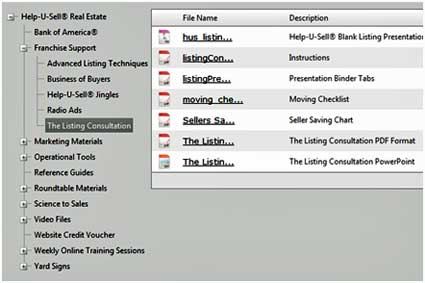 Next comes Marketing Materials and I'll expand the Buyer Materials section: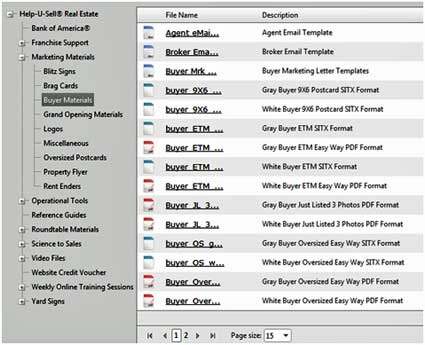 Let's jump forward to one of my favorite areas, Science to Sales.  I've said it before:  this is the finest buyer agent training program in the industry.  And here it all is:  Student Guides and Instructor Guides, even the Videos, free for the taking (or downloading):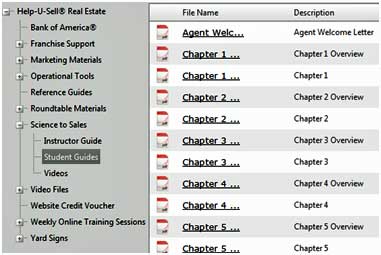 Look what's in the Video Files section.  I'll expand the Buyer Consultation where you can learn about Jack Bailey's 'Real Estate Plan' and how to use it to build strong buyer relationships: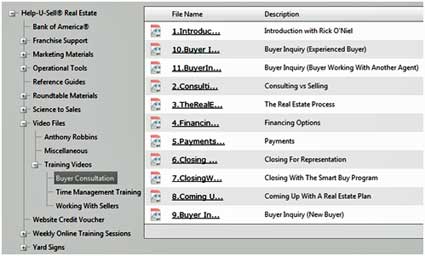 Pretty cool stuff, huh?  I could go on and on with the screen shots, but I think you get the picture.  Besides, I want you to go to the Download Library and do some clicking for yourself.  You'll be surprised at what's there.